Guidad vandring till Trollsjön (Rissajaure) // Guided hike to Trollsjön (Rissajaure) 3643-620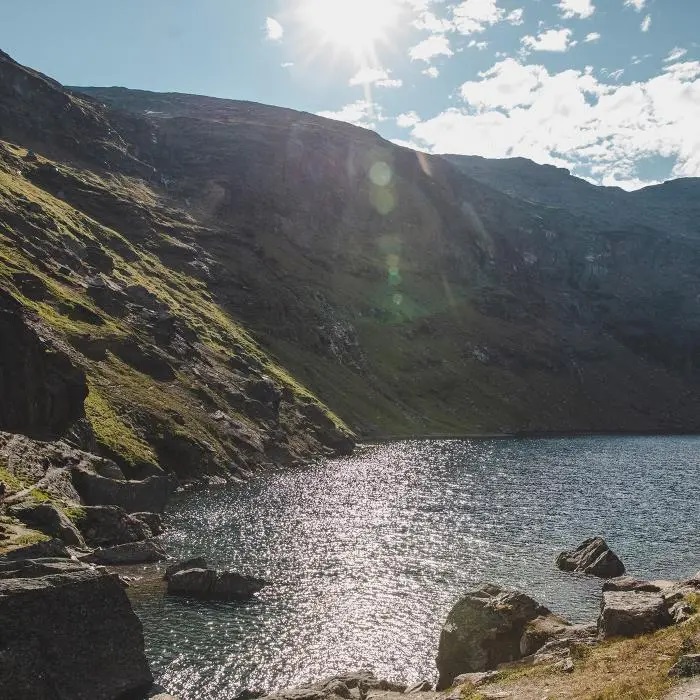 À partir de

SEK
895,00 SEK
Durée: 7 Heures (environ)
Lieu: Björkliden, Kiruna
Code produit: PRHUUP
Guidad dagstur till Trollsjön genom mäktiga Kärkevagge, en av de mest mystiska och vackraste platser de svenska fjällen kan erbjuda! Denna dal är ett unikt område känt för sina storslagna stenformationer som formades under den senaste istiden.

Under turen går ni tillsammans med guide genom dalgången upp till Trollsjön (Rissajaure), som är en av Sveriges siktklaraste sjöar. Ni får ni lära er om områdets historia, fjällfloristik och om djurlivet i området. Framme vid sjön äter ni medhavd matsäck och kanske tar ett dopp i den klara sjön.
Tid: 08.00 – 15.00
Pris: 895 kr/vuxen och 495 kr barn under 16 år.
Deltagare: max 8 personer
Info: Vandringen är 12 km. Rekommenderad ålder på denna tur är minst 10 år. Medtag egen matsäck.
Packa med regnkläder, varm tröja, mössa, dryck och matsäck.
Guided tour to Trollsjön (Rissajaure) through the valley Kärkevagge, one of the most mystic valleys the Swedish mountains has to offer. The valley is a unique area known for its large stone formations that were shaped during the last ice age. At lunchtime we will reach the lake Trollsjön (Rissajaure) surrounded by high mountain sides in three out of four directions. The lake has amazing clear water, which on clear days gives you the possibility to see all the 36 meters to the bottom.
During the hike will you hear about the history of the area and learn about the plants and wildlife that you can find in the mountains. When reaching the lake is it time for lunch and perhaps a swim before turning back home.
Time 08:00-15:00
Price 895 SEK for adults and 495 SEK for children under 16 years.
Participants: maximum 8 people
Info: The tour is 12 km long. Recommended age 10 years. Bring your own lunch pack.
Bring rain clothes, warm sweater, hat, something to drink and lunch pack.