Topptur heldag / Ski touring Riksgränsen (3643-623)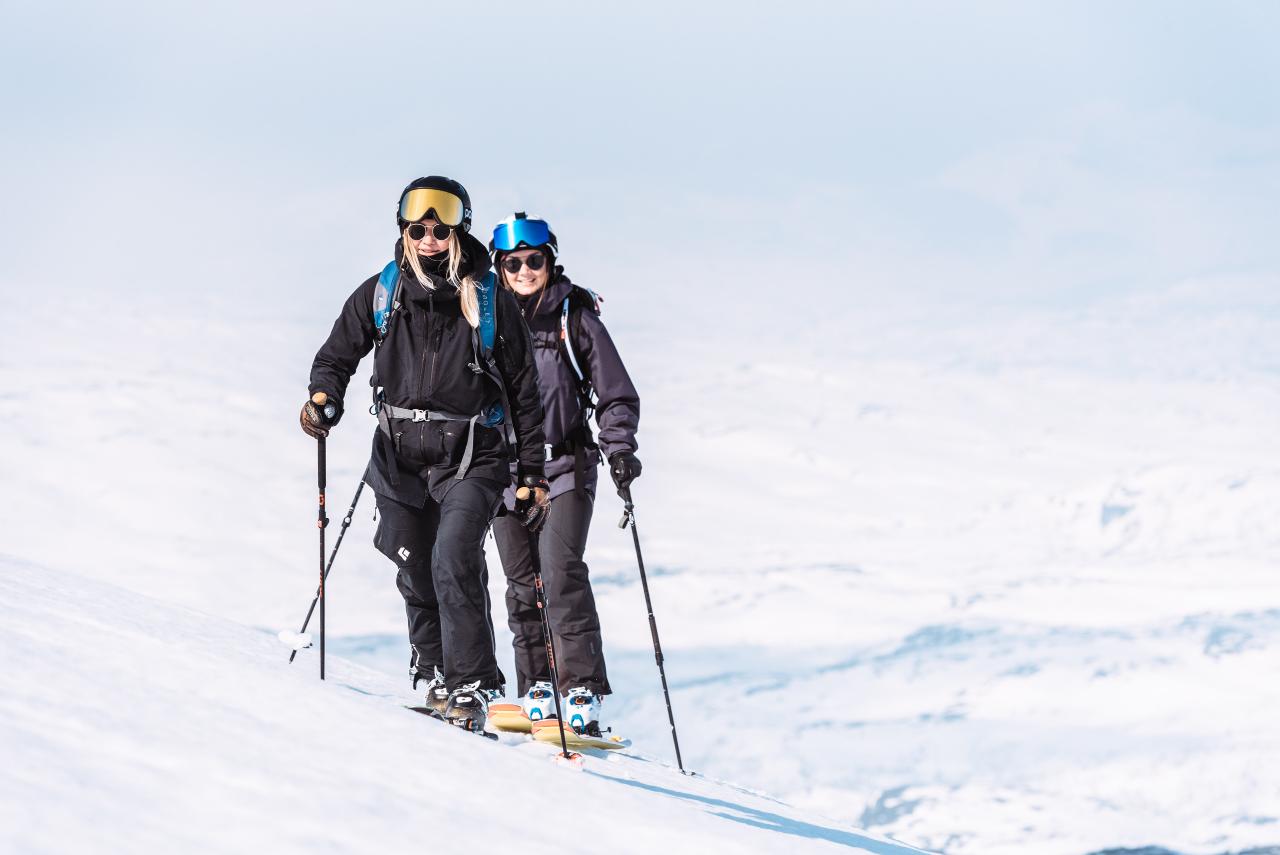 Duração: 8 Horas (Aproximadamente)
Localização: Riksgränsen, Kiruna
Código de produto: PHUX0Y
HELDAG TOPPTUR
Toppturande innebär en heldag på skidor i det fantastiska fjällen kring riksgränsen och narviksområdet. Toppturande är en svårslagen aktivitet om man gillar skidåkning, fjäll och att svettas lite. Med hjälp av sin egen skidutrustning rör man sig upp för fjället för att sedan njuta av ett långt, orört åk nedförs. På många ställen i området kring Riksgränsen, både på den svenska och norska sidan, börjar stigningen direkt vid vägen eller efter en kort anmarsch. I lugnt tempo tar sig gruppen med guide i täten upp mot toppen och samtidigt byggs förväntningarna upp inför det kommande åket nedför. Vid klart väder erbjuds en hisnande utsikt. Toppen för dagen väljs utefter vädrets och snöns förutsättningar.
Tid: 4-7 timmar
Pris: 1540 kr per person inkl. guide, lavinpaket & transfer

Skidutrustning ingår ej, har du inte egen utrustning kan du hyra utrustningen här: https://riksgransen.se/skidakning/sportshop/

Förkunskapskrav: vana av att åka offpist och orka vara fysiskt aktiv en hel dag.
Ålder: Från 15 år (har du yngre barn som vill med på tur är det möjligt om du bokar en privat guide för hela ert sällskap).
Deltagare: min 2* personer, max 6 personer
*minst 2 deltagare behövs för att turen ska gå.
Pst! Om man är helt ny på toppturande och lite osäker på om en heldag är grejen finns i Björkliden turen "Topptur för första gången". Där börjar man med att ta höjdmeter med hjälp av liften för att sedan ta sig upp på fjället Gohpascorru (1313) i lugnt tempo.

Packlista för toppturer: Hjälm, Solglasögon, Skidglasögon, Värmeplagg (Dunjacka, tjock tröja eller liknande), Mössa, Vantar, Buff/halsduk, Lunch och snacks, Varm dryck


Ski touring – Full day
Ski touring is the proper adventure where you spend a full day on skies. If you like skiing, mountains and to break a sweat than this is for you! Whit the help of you ski equipment will you move up the mountain side to later on enjoy a long, untouched ride down. In many places around the Riksgränsen region, on both sides of the border, the possibility of ski touring starts either right by the side of road, or only a short trudge away.
The guide will lead the group at a calm pace up to the top, during which time anticipation will start to build up for the run down. Breath taking views are on offer during clear weather, regardless of which peak you are on. The location chosen for the day depends on weather and snow conditions, but the possibilities in the area are countless.
Time: 4-7 hours
Price: 1540 SEK per person incl. guide, avalanche equipment & transfer. Ski equipment is not included. If you don't have your own, you can rent it at: https://riksgransen.se/skidakning/sportshop/
Previous experience: have skied in off-piste terrain before and have the stamina and energy to be active for a whole day. .
Meeting point: Outside the entrance of hotel Riksgränsen.
Age: Min 15 years (if you want to go woth younger childerna is it possible if you book a private guide).
Participants: min 2*, max 6 people
*Two participants on the tour is required for it to start.


Pst! If you complete new to ski touring and are not sure if a full day is for you, do we in our neighbouring resort offer the tour 1313 - a ski touring classic in Björkliden.
It is a calmer and shorter tour where you begin with taking the lift up the mountain Gohpascorru and then continue to the top in a calm tempo. There is a free shuttle bus in between the resorts.
Packing list for ski touring: Helmet, Sunglasses, Goggles, Warm layer (down jacket, thick sweater or the like), Hat, Mittens, Buff/scarf, Lunch, Warm drink