1313 - Topptur för första gången / Ski touring for beginners (3643-620)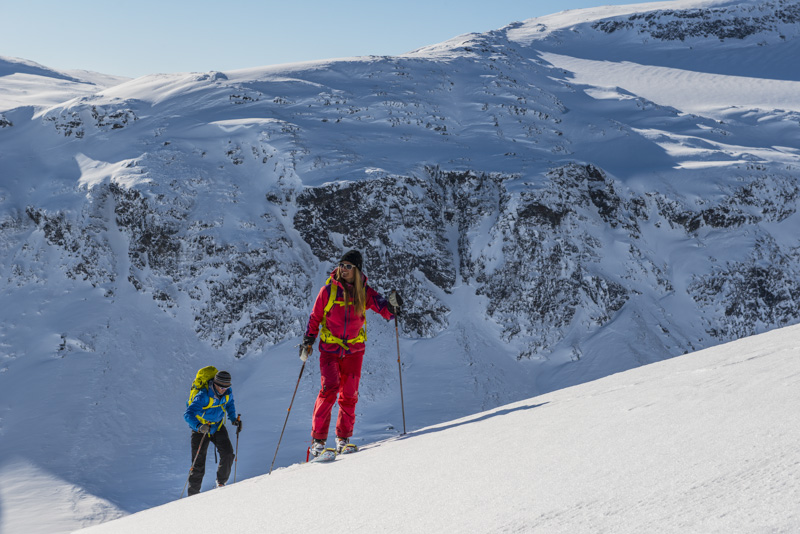 Varaktighet: 225 Minuter (cirka)
Plats: Björkliden, Kiruna
Produktkod: PYEQ0C
Vill du ha en lugn topptur eller har du inte provat att gå på topptur innan får du här möjligheten att gå med våra duktiga guider och hitta de bästa orörda svängarna. Vad är den ultimata skidupplevelsen? Det beror förstås på vem man ställer frågan till. Ganska många med erfarenhet på ämnet, skulle antagligen placera en bra topptur högt upp på den listan.
Det här är en aktivitet för dig som har åkt en del skidor sen tidigare och då även off-pist. I sällskap med en skicklig guide får deltagarna möjlighet att testa en riktig topptur med stighudar och alpin turutrustning, s.k. randoneé. Målet för turen är toppen "1313" där vi börjar med att skriva in oss i gästboken. Efter en paus på högsta punkten väntar ett härligt åk i orörd snö, längs fjällets sluttningar. Tempot i anmarschen anpassas efter gruppens förutsättningar. Turen startas med introduktion och genomgång av dagens utrustning. Innan avfärd håller vi i en genomgång av lavinutrustningen som ingår på turen (lavinsändare).
Tid: 5 timmar
Pris: 1195 SEK per person. I priset ingår guide och lavinutrustning. Liftkort behövs ej men Skidutrustning ingår ej. Specifik randoneé/toppturs-utrustning behövs.
Deltagare: Min 2 personer*, Max 8 personer
*minst 2 deltagare behövs för att turen ska bli av.
Rekommenderad packlista: hjälm (obligatoriskt), solglasögon, skidglasögon, värmeplagg (dunjacka, tjocktröja eller liknande), lunch, varm dryck, mössa, vantar, buff.
For skiers with some off-piste experience who would like to try ski touring. An activity that's hard to beat if you like skiing, mountains and you're not afraid to break a sweat – 'Earn your turns'!

The goal of our tour is to reach the Peak called "1313" close to Björkliden and write our names
in the tour book on the summit. The ride down provides large untouched areas of
snow. The level of skiing and speed will be adjusted after the technical skills
on the group. We will take it easy and safety is important for us. This
activity is suitable for those who have skied before, preferably in off-piste
terrain or for those are good skiers in the slopes. We start the day with an
introduction and we'll talk about the gear we will use during the day.

Time: 5 hours
Included: Avalanche safety equipment, guide. Lift pass is not needed but ski equpent is requiered and not included. Equipment for randonee/back contry skiing is needed.
Please observe that ski-gear is not included in the price. Rent your gear here: www.bjorkliden.com/skidakning/sportshop/
Participants: Minimum 2 people*, Maximum 8 people.
*at least two people needs to participate for this activity to run.
Recomended pack list: Helmet (mandatory) , sunglasses, googles, warm sweater or warm jacket (thiner down jacket or alike), lunch, warm drinks, ha, mittens och scarf.